Expert in
Laser Cutting
Stamping
Aeronautical Welding
Mechanical Welding
Boilerworking
Folding
Machining
Penetrant Testing

Schligler, Expert in Boiler & Sheet metal working
Since 1856, Schligler design and manufacture metallic parts, sub-assemblies and assemblies with high added value for demanding business lines. Expert in boilerworking and sheet metal working, we deal with all traditionnal metallic materials (such as  stainless steel, aluminum, steel) as for technical metallic materials (such as titanium, hastelloy, inconel). We work with thicknesses varying from 80µm to 12mm. Our expertise in laser cutting, stamping, bending, welding and boilermaking processes enables us to produce technical parts. Our entire team is available to help you in the manufacturing of parts. 
We have significant resources. Our human resources and machine park enable us to manufacture both small and medium batches. With premises of over 6,000m2 in France and 2,200m2 in Tunisia, we are able answer and support every request. We haveon-hand all handling equipment as well as logistical means needed to ship your parts in the best conditions. Do not hesitate to get in touch with us to visit our facilities and discover our know-how.
Our design office department will finely manage all your projects.  It allows us to bring an outside view as well as our manufacturer's point of view on your assemblies, sub-assemblies or parts to be made. In a co-engineering approach, we support you throughout the entire process, from prototyping to series production.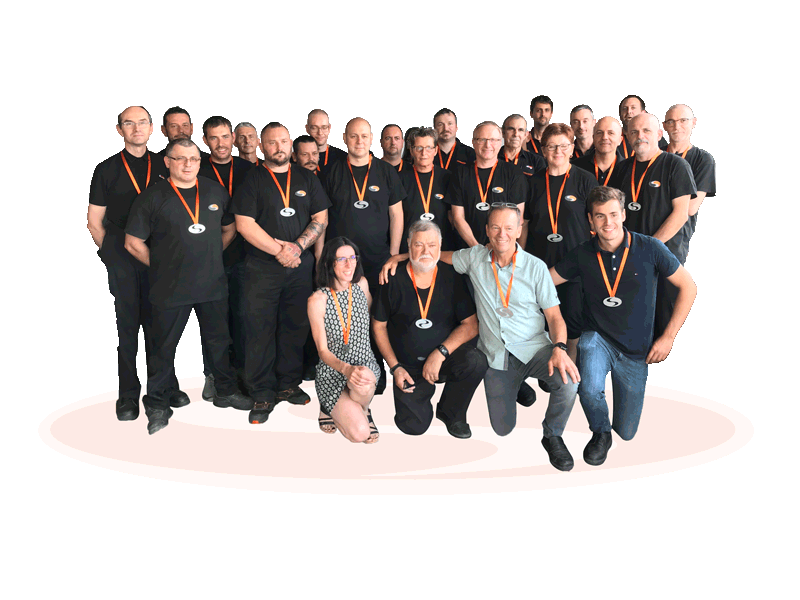 All of our employees share common values. These values lead us and empowering us to move forward. We try to improve ourselves every day basing on policy that gather economy, social and ecology.
Some figures about Schligler
In our company, quality is essential. That is why we value so much our various certifications. They are proof of our commitment and our efforts regarding the manufacture of our parts. We are ISO 9001 certified as well as NADCAP for NDT-Penetrant Testing.
Certification ISO 14001 & ISO 45001
We are taking the ISO 14001 certification which regards the environmental management system of our business. This standard enables Schligler, and its external different stakeholders, to ensure that the environmental impact is the main subject of concrete measures and improvements within the company itself. In addition, the ISO 45001 certification, which deals with employees safety and work conditions.
The main Schligler's facility is located in Bourgogne Franche-Comté, more precisely in Valentigney. It is also known as the headquarters of our activity. In a context of globalization, in 2004, we launched our first subsidiary in Tunisia. This international structure procures advantage, because it enables us a better workload management while offering a interesting alternative to all our partners.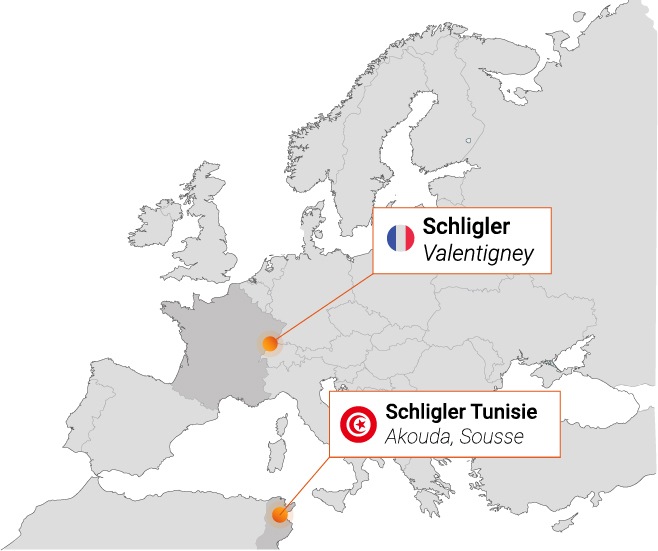 We work in collaboration for many years with well-known leaders of significant market.
Find the latest information and highlights of the company.